I've been encountering quite a few people trying to understand how come Demeo is popular among VR gamers. They just don't find anything that is attractive about this game and can't understand its success. In this post, I want to talk about this topic.
Why I Bought Demeo?
First of all, I want to share why I bought Demeo. When I first heard about Demeo I was thrilled to get it. The reason for my enthusiasm that I wanted to enjoy a casual social tabletop/board game in VR. I was searching for them and there aren't many.
One that actually caught my attention was 'Catan', but I wasn't too excited about the core mechanics. I found myself just playing a Poker VR game that I got bored playing pretty quickly.
So there is a lack of polished high-quality tabletop VR experiences for the Oculus Quest (I'm using Quest 2).
I also wanted something that is more on the fantasy side, preferably RPG/D&D—and then I found about Demeo out of nowhere. I knew this is the perfect tabletop VR game for me as it touches all the points I was looking for in a tabletop VR game but of course, I haven't played it just yet.
Everything I Wanted
It features a fantasy theme, RPG with D&D-inspired characters, and dungeon crawler gameplay. It's card-based and I love card games, it's turn-based and it looked amazing visually. It features Quick-play, auto matchmaking so I can play with people from all around the world, it has voice communication built-in and active by default. Everything was there but I haven't played the game just yet.
First Impressions
I bought the game on Steam and I told myself, in the worst case, I will refund it if it's bad.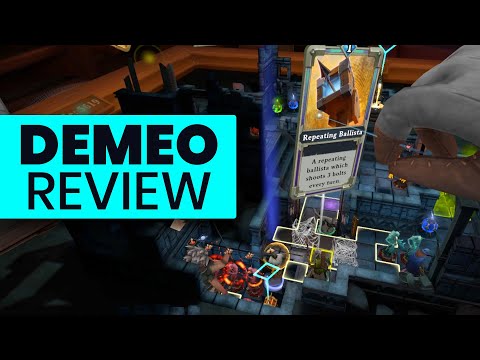 I started playing and (almost) everything was how I expected the game to play based on the teaser trailers. We had different classes, each class with its own unique class cards. The game took place in beautifully crafted dungeons (different level variations available). It was very easy to get into online multiplayer and play with others. The community is amazing, with almost no toxicity which is amazing. The game looked stunning (I bought the PCVR version, played on Quest 2).
There was progression with cool skins for the base and look of the miniature and the user's masks which I thought it's pretty cool as well. The gameplay although seems a bit too lengthy, still was fun and exciting and time just flies when you enjoy it.
Although there were bugs, I was sure they would be ironed out pretty fast but overall it was a smooth experience.
The gameplay mechanics are fun and it was an amazingly comfortable VR experience with a great degree of control to target discomfort in certain situations. I can rotate, resize and tilt the board to my liking.
I can play single-player, that although still needs quite a lot of improvement to be great, was an option. Most of the time I played Quick-play as this was the most fun game mode for me and one of the things I was looking for in a game like this.
I felt great putting $30 in a game that the dev also promised free DLCs, a non-VR version, and a game that know I'll want to continue playing and want to have in my VR library.
The game has high replay value as it is but indeed I want more content and updates that will come soon from what I've read. I can't found how much money I paid for half-baked games that I stopped playing a day after or a few hours after and never wanted to get back to playing.
Demeo is a breath of fresh air and a fantastic game for D&D, Turn-based game, RPG, and casual VR game fans who have been waiting for a game like this and never got the opportunity to find a good one that was worth their time and money.
Demeo will get more content and improvement and the devs are very well connected with the community and listen to the community and will make improvement based on feedback as well.
Gamers are not blind and they see all that and want this game to continue being with us for a long time. All this and I even might miss more points, is one of the reasons people love the game and want to be invested in it so more content will come so they can continue having fun playing it.
It's a very good game that can only get better. The core mechanics are great, so now it's time to make it even better and I think that many people in the VR gaming community realize that and enjoy the game now, and trust the devs to make it even better. That's why this game deserved the attention it got and people are having fun playing it, and know that the best is yet to come.