I love playing retro games as it brings some great childhood memories. Today I played a new retro VR game for Oculus/Meta Quest 2 called CARTRIDGE '81.
Cartridge '81 is a rail shooter Virtual Reality game. You automatically move while trying to shoot pixelated Space-Invaders-Like enemies.
Here is my Cartridge '81 video game review + gameplay of course.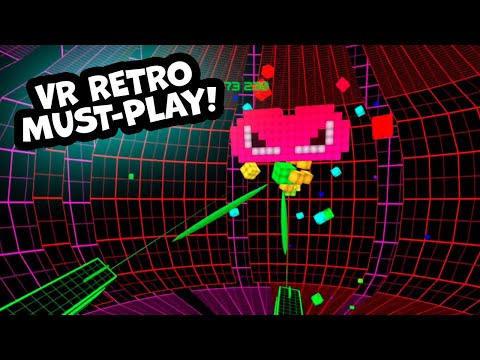 Now as you can see, there is no HP here. It's all about trying to aim properly with your two handguns and eliminate as many enemies as possible. Each mode is 10 minutes run. At the end of the run, you'll see your highscore and the global score leaderboard.
Each run ends with a really cool boss fight.
Cartridge '81 features beautiful 80s synthwave like retro-neon visuals. I soundtrack (don't know if it's original) is top-notch, which makes the gameplay experience so much more fun.
Overall, I highly recommend trying the game. It's free via App Lab on the Oculus Sture, so I recommend downloading it and giving it a try, especially if you like retro games and VR!
I played it on the Oculus Quest 2 without any issues. The game is also very comfortable with no motion sickness.