Attention, space enthusiasts and VR gamers! Prepare for an extraordinary journey through our handpicked selection of the top 10 VR space games for Meta Quest 2 on SideQuest. From adrenaline-pumping space battles to serene galactic fishing, these experiences will transport you to the far reaches of the universe. Grab your VR headset and get ready to explore the cosmos like never before!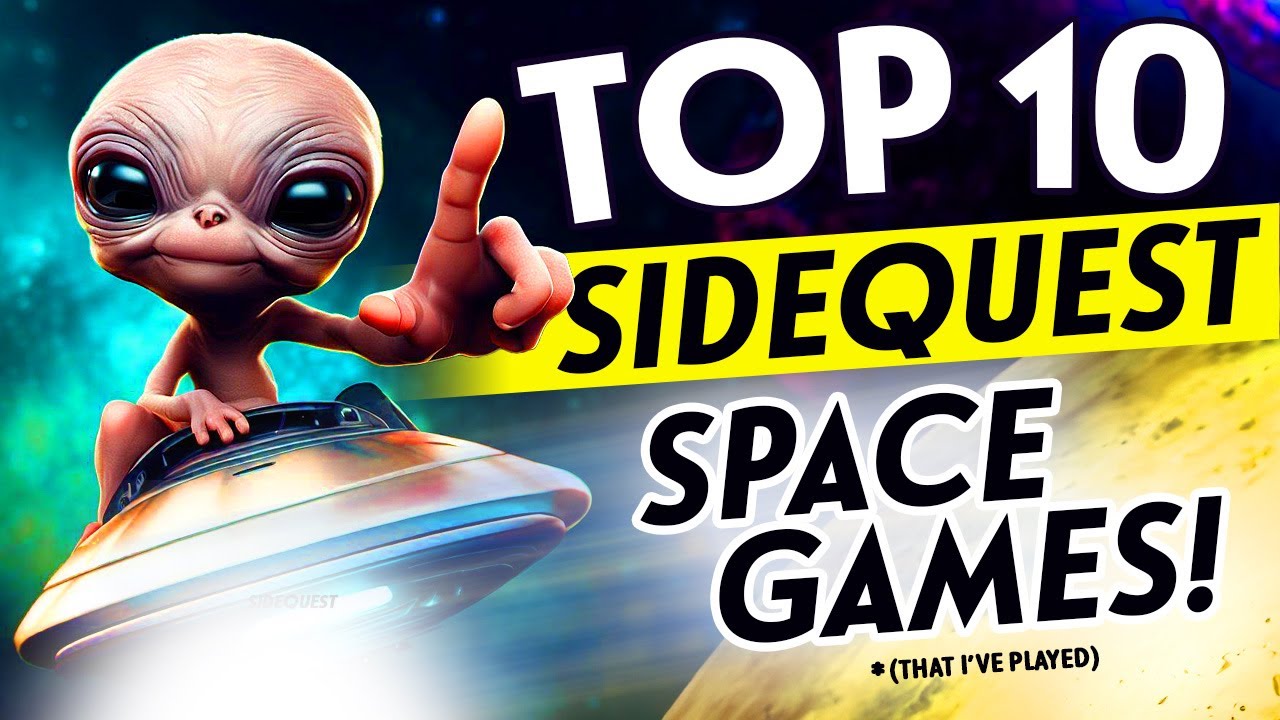 10. Calm Space - Glide Among Stars
Unwind as a VR superhero in Calm Space, where you can gracefully glide among stars and planets. This relaxing hand-tracking experience offers a peaceful escape from daily life, perfect for a tranquil gaming session. While the planets may not be true-to-life scale, the sense of wonder it evokes is truly magical. Immerse yourself in this free demo and enjoy the serene flight.
9. Only Us - Heart-Pounding VR Horror
Step into the shoes of a space station inhabitant being hunted by a creepy monster in Only Us. This spine-tingling VR horror game promises a brief yet intense experience that's perfect for Halloween chills. Will you manage to escape the room in time? Brace yourself, put on your VR headset, and find out if you can survive the horror.
8. Color Invader - Challenge Your Reflexes
Put your cognitive thinking and reflexes to the test in Color Invader, a vibrant VR shooter set in a mesmerizing space environment. Shoot colorful cubes with precision, aiming to enhance your brain development as you play. With its challenging gameplay and free beta access, Color Invader promises an exciting and brain-boosting adventure.
7. Space Simulator 3D - Master Your Cosmic Playground
Create your own solar system playground with Space Simulator 3D. Observe orbits and gravity interactions while adding planets, moons, stars, and asteroids to your cosmic canvas. Dive into the wonders of space and explore astrophysics in this immersive and educational VR app.
6. Squadron One - Intense Arcade Multiplayer
Engage in exhilarating space dogfights in Squadron One, an action-packed arcade multiplayer VR game. Battle against AI or real players as you navigate through vast space environments. Unlock new ships, take on challenging missions, or simply relax in chill mode when you need a break. This game is a must-have for space combat enthusiasts.
5. David - Immersive VR Wave Shooter (Demo)
Join an epic space battle against a fleet of ships in David, a captivating VR wave shooter presented in third-person perspective. Conquer challenging levels, upgrade your spaceships, and collect power-ups. Although it's a demo, David's core mechanics deliver an immersive space shooter experience worth exploring.
4. Squingle - Mind-Bending VR Puzzle
Prepare for a mind-bending journey in Squingle, a surreal VR puzzle game with captivating abstract visuals. Maneuver orbs through an organic-like cosmic landscape, avoiding damage with delicate precision. Channel your inner surgeon and navigate through space in this unique and artistic gameplay experience.
3. Power Force: Just Shoot - Free VR FPS
Gear up for a challenging adventure in Power Force: Just Shoot, a free VR roguelike FPS game. Start from the beginning with each attempt, earning points to unlock new weapons and upgrades. Face challenging levels, collect power-ups, and embrace the rewarding gameplay of this hardcore shooter.
2. Voxel Fly - Retro VR Space Shooter (App Lab)
Experience a blast from the past with Voxel Fly, a fast-paced VR space shooter featuring retro low-poly voxel art. Choose from various spaceships and game modes for endless fun. If you're a fan of classic arcade games and space shooters, Voxel Fly is a must-play.
1. Galactic Catch - Breathtaking VR Fishing Simulation
Claim the top spot with Galactic Catch, a stunning VR fishing simulation set in mesmerizing sci-fi alien landscapes. Craft fishing gear, capture legendary fish, and proudly display them in your customizable aquarium. Developed by Baobab Studios, this VR fishing adventure offers an unforgettable experience for all ages. Dive into the wonders of Galactic Catch and explore the Meta Quest 2 universe like never before!