One of my favorite and highly recommended party VR games to play with (or more precisely, against) friends is Loco Dogo Unleashed. A game that has already seen its PC VR version just got a dedicated Quest 1 and Quest 2 version released this October 2021.
Check out Loco Dogo Unleashed gameplay on YouTube: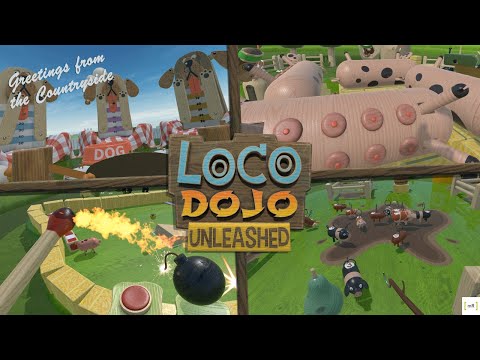 Loco Dojo Unleashed is a game that supports both single-player and online multiplayer (by invitation or using automatic matchmaking). So it's very easy to just log in and use quick match if you don't have anyone to play with and get a game to play against another anonymous player online.
Loco Dojo Unleashed is basically a collection of cool mini-games, all made specifically for Virtual Reality using VR controllers. There are fun, super cute, and great for kids and adults alike. If you are a parent and looking for a game to play with your kids using the Oculus Quest or Quest 2, you'll love this game.
The game is played like a board game at first. You roll a number and you move a character on a board, which then decide which type of mini-games to play. There are other options to get some extra stuff but the focus of the course is on the mini-games.
The player that gets the highest score wins and it takes quite a few mini-games to decide who the winner is.
I recommend watching the gameplay video of Loco Dojo Unleashed above which covers most of what the game has to offer and see if you like it.
In my review, I found this VR party game to be one of the best that I tried, and as I said, great for parents looking for a VR game to play with their or for their kids.
Enjoy!