Although PROJECT STARDUST is a fan-made game, not an official Star Wars game, it still will satisfy many fans who want to fly X-Wing pilots.
It's a Virtual Reality (VR) game for PC. I played it today on my Oculus Quest 2 connected to my VR-ready laptop.
Here is a summary of my experience.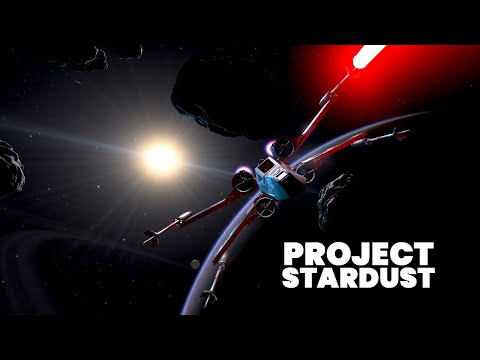 Disclaimer: The game 'Project Stardust' is not affiliated or endorsed by The Walt Disney Company, Lucasfilm Ltd, their subsidiaries or sister companies, or any Star Wars license.
In this game you'll be flying a starfighter spaceship, fighting other space fighters in space deep space.
Some of the themes are directly influenced by the movie Star Wars as you can see from the gameplay.
The game features very realistic visuals, especially due to the fantastic lighting effects on the windshield of the spaceship. Looks more like ray-tracing.
This X-Wing VR simulator will allow you to participate in different battles inspired by the Star Wars franchise.
You control the spaceship using the controllers, in my case, the Oculus Quest 2 controllers. Aiming is not easy and there is a way to adjust that sensitivity to make it easier to aim, but still, it felt a bit off.
That being said, I enjoy my time in Projects Stardust and I recommend this VR experience to any VR gamers and of course, Star Wars movie fans.
Enjoy.