Today I tried a really beautiful VR simulator app for Chinese traditional writing called "You, Calligrapher". I played it on the Oculus Quest 2 but it's a PCVR app and it also supports all major popular headsets.
For those who don't know what 'Caligraphy' means, well… Wikipedia comes to aid:
Caligraphy is a visual art related to writing. It is the design and execution of lettering with a pen, ink brush, or other writing instruments.
I love design and illustration apps in general. I love toying around creating banners for my YouTube channel with Photoshop. In the past I did lost of Photoshoping work. I also love learning languages as well.
Although I didn't spend a second in my life learning Chinese, I was always fascinated by the Chinese and Japanese letters.
I got a key from the developer and decided to give it a go. Here is a video in which I share my experience: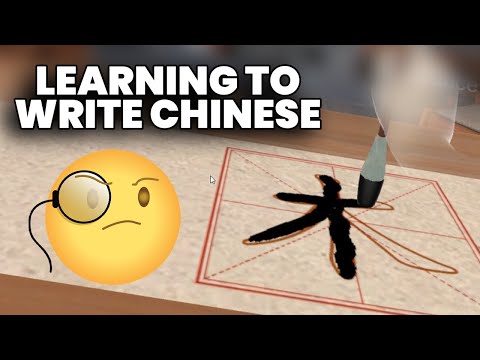 You, Caligrapher is a relaxing educational VR experience. It has a tutorial that teaches you the basics of how to use different brushes and colors. You have a free mode which you can just paint on a blank canvas or on different lettering templates with also an animated hand which you can follow to see how it's professionally done.
There is also a challenge mode where you get to learn how to write the different Chinese letters, learn how to pronounce them and their meaning. Then you need to draw the letter and you get a score grade based on the accuracy of the writing.
For what it was designed for, "You, Caligrapher" does an amazing job and I recommend it even just as a relaxing VR experience.