Today I tried ForeVR Bowl, an upcoming bowling Virtual Reality (VR) game for Oculus Quest and Quest 2 VR headsets. The game is planned to be released on May 27, 2021. I've obtained a key from the developer to try it out before its release, so I can share my experience with you.
For those who want to watch the gameplay video, here you go: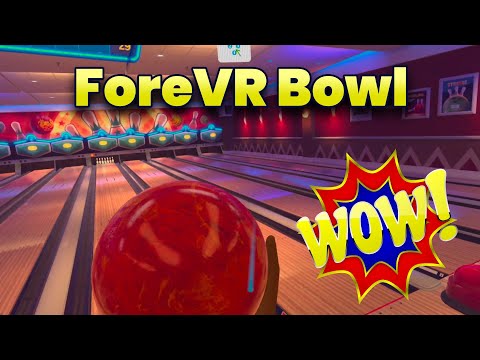 So what makes ForeVR Bowl so special. Well, this VR bowling game is so many great things going for it.
Let's start with the gameplay mechanics and locomotion. You can play this game either seated, standing or room-scale. The controls are designed to make the game fun and comfortable to play whichever way you choose. You can get the ball from a far location (aim+grip button) and you can move using teleportation locomotion.
This VR bowling game supports local and online multiplayer and you can play single-player as well if you want to. It has ranked and regular matches, a global leaderboard, achievements, and tons of insane-looking skins you can unlock for the bowling balls. However, it's not just the skin that changes, but also the physics stats of the ball as well.
So you can try for example balls that don't bump on the surface, some have no spinning option, some are very lightweight, while other heavy. It's nice experimenting with different ones but you need to unlock them by both leveling up to unlock them and obtaining coins to be able to purchase them.
There is a beautiful lobby where you can easily see all that information and check out the balls firsthand. You can even put some of them in your ball's bag to take it with you to the next game.
There is also a practice mode that allows you to position pins so you can practice different strikes with only those pins available.
The game has music but I muted it because of YouTube. Sound effects are great as well, even when you move, you can hear the sound of the shoes as you walk in the hall, pretty cool.
The game features a realistic size bowling court, so the experience feels very realistic and exciting like the real bowling experience. However, it's even more fun as it's enhanced by all the cool digital arcady enhancement.
There are different halls you can unlock as well, but you'll need to gain experience points to level up in order to unlock them—something to look forward to as you progress.
Overall, the best VR bowling game for Oculus Quest and Quest 2 by far, highly recommended! Again, coming May 27, 2021, so make sure you don't miss this one out.