Hi everyone. A few days ago I got to play the new free update to the VR game Demeo. The DLC is called "Realm of The Rat King".
Unlike the base game, this new update brings some changes, patches to broken mechanics and of course a new map (Sewers), new type of enemies and new cards.
Having said that, what I think is the biggest change is the fact that the swerves level is much harder now. They ramped up the difficulty by a lot and many players are actually finding it hard to complete the levels. I remember that many players asked for Demeo to be much more challenging, but maybe this one was a bit too much for some.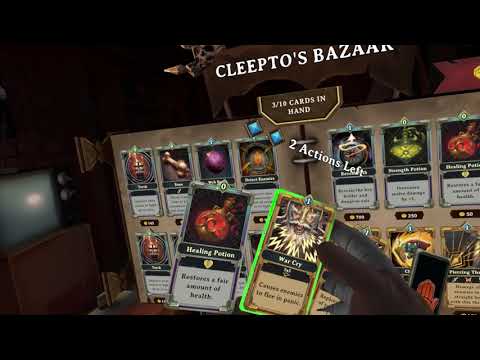 If you ask me, I think that this little content and the difficulty is just because the developer is working on bringing the title to non-VR and that's where their biggest effort is. If the game becomes very popular as non-VR, I think we'll be seeing much more content coming to this game and more frequently.
Overall, I liked the update and that the fact that we need to work harder as a team to be able to win. You still able to play the first dungeon but if you are looking for a very tough challenge with your friends, the new map is the one to dive into.
I was personally disappointed not having new cosmetics to unlock with the new DLC, that is very unfortunate. I was telling myself "What were they thinking?!?!". Probably their focus is on releasing a non-VR version to Demeo and maybe that's the reason for the lack of content.
Nonetheless, the new update is free, so make sure you check it out.